Recertification Fee Required: No
Consumables Required? Yes, consumable tips & grounding pads. They can be purchased through shop.perigee.com.
Price for Consumable Tips: $891 – $990 per (10 pack)
Handpiece Life: 5 Million Pulses
Treatment Prices: Prices range from $750 for face to $2000 for face neck and chest and depending on region of the country.
TECHNICAL SPECIFICATIONS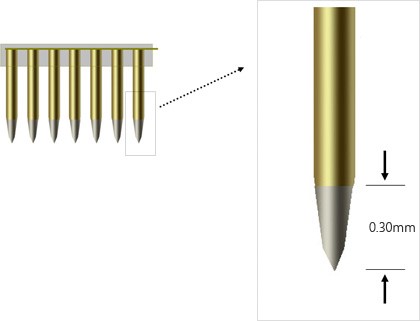 INTRAcel uses technology known as fractional radiofrequency or RF micro-needling. The device makes use of specially designed micro-needles that are insulated except for 0.3 mm at the end of the tips where it emits the RF energy. The insulation means that surrounding skin in not damaged by RF energy, up the length of the needle, and the energy is delivered and targeted only at the tip, thus protecting the epidermal layers of the skin. The needles are quite thin – thinner than a normal 32 Gauge needle that is popularly used with cosmetic injectables. They are arranged in an array of 49.
The device is programmed to emit a stable 1MHz frequency of up to 60 watts. The strength of radiofrequency emission varies and ranges from level 1 through to level 7. According to an INTRAcel pioneer, the variance in skin impedance or resistance makes it impossible for one to accurately measure the energy delivered by the machine. Nevertheless; assuming impedance of 200 ohms (U), the first level can deliver roughly 0.4 Joules and level 7 manages about 2.4 Joules. The practitioner can adjust this according to both patient comfort and the indication they are treating for optimum results.
Furthermore, the new INTRAcel device has a three-fold treatment platform including:
• FRM monopolar hand-piece – (deep monopolar RF)
• Superficial RF rejuvenation hand-piece (SRR) – a non-invasive, blunt RF delivery
• FRM bi-polar hand-piece

MANUFACTURER NOTES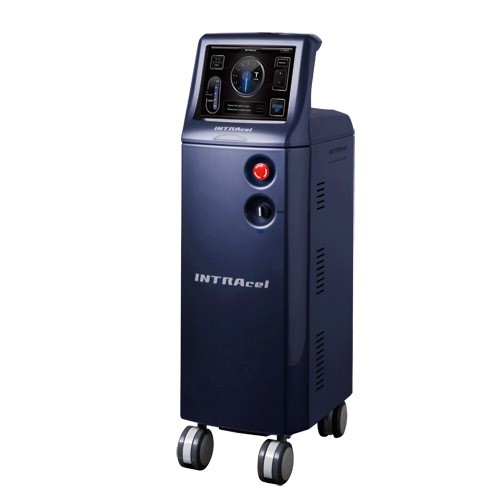 INTRAcel was first introduced in the UK marketplace in 2011 by the distributor SmartMed. It is manufactured by Jeisys – a Korean based company heralding from the country where this skin-rejuvenating technique started.
The INTRAcel Fractional Radiofrequency (RF) Micro- Needling device was invented to offer a solution for a variety of cosmetic indications that include the improvement of acne scarring, wrinkles, skin texture and ageing concerns, as well as the tightening of the neck and jowls.
The system is comprised of a Fractional RF Microneedle™ (FRM) array that assists in skin rejuvenation and also treats acne, provides a non-surgical face lift, reduces large pores and acne scarring through a variable radiofrequency power treatment and different skin depths.
HOW DOES IT WORK?
INTRAcel makes use of fractional micro-needles and non-invasive electrodes to deliver RF heat energy into the middle layer of your skin known as the dermis. In essence, the heat energy causes controlled damage in the area of application, eventually triggering a repair response from the body. Simply put, the proteins that make your skin firm and strong, (collagen and elastin), are stimulated to produce more to rebuild and renew the area. With INTRAcel, it means you can achieve thicker, firmer, tighter and rejuvenated skin.
Treatment takes around 30 – 60 minutes.
A topical anaesthetic will be applied first for added comfort during treatment.
Firstly, the hand-piece is placed over your skin. Secondly, the micro-needles project from the hand-piece and penetrate into the top layer of your skin. Thirdly, the radiofrequency is then transmitted through the insulated needles. And finally, the needles withdraw from your skin after the emission and the handpiece is moved along to repeat the process, (see the illustration). You will feel a prickling sensation as well as a feeling of heat during treatment.

LICENCE STATUS
European CE Marked Medical Device.
Despite being in use in Europe since 2011, INTRAcel gained U.S. FDA Clearance in the summer of 2016.
SHOULD BE USED BY
The device should be used by trained professional medical practitioners including doctors, cosmetic surgeons and nurses.
WHAT IS IT USED TO TREAT?
The INTRAcel RF micro-needling device can be used to rejuvenate your skin in almost all areas of your body including:
1. Face and neck
• Loose jowls including an undefined jawline
• Sagging skin under one's chin
• Fine lines and wrinkles around the mouth and forehead
2. Body
• Flabby tummy
• Sagging skin on the arms, buttocks, knees, and legs
• Unwanted bulges after weight loss or pregnancy
• Stretch marks
• Acne
• Acne scarring
• Scars
• Open pores
• Skin texture
• Fine lines
3. Eyes
• Excess skin found on the upper part of the eyelid
• Wrinkles around the eyes
ARE THE RESULTS PERMANENT?
Although the results will vary according to your skin type and the area of application, results last up to 2 years for most people, according to the manufacturers. Skin ageing will of course still continue in all individuals so you may be advised to consider top-up or maintenance treatments every couple of years.
SIDE EFFECTS & RISKS
INTRAcel is considered quite safe as long as you are healthy.
Treatment can be painful, but will depend on the individual. Anaesthetic cream is used to minimise any discomfort, and sometimes cooling systems are also available if you are particularly sensitive. The treatment levels of the device can also be adjusted to suit comfort during treatment. Generally, treatment is considered to be tolerable.
Immediately after treatment there will be pinpoint bleeding which will go away quickly. You will feel like you have a mild sunburn for a few hours and the skin will stay red for up to a day. During this time the skin is starting to heal. There may be swelling, particularly if you are treated in and around the eye area; this may take up to 3 days to disappear. Small bruises are also possible. Tiny scabs will form (where the pinpoint bleeding was) at the entry points of the micro-needles. This will make your skin dry and flaky for a few days at the area heals. Improvement in skin tone and texture will happen after about 2 weeks.
You will be advised to wear an SPF 30+ sunscreen product after treatment, as well as to use any topical aftercare products such as aloe vera gel, alongside cold compresses to aid comfort, assist healing, protect your skin and avoid complications whilst it heals. Make-up should be avoided for at least 24 hours after treatment.
NOT TO BE USED IN
As long as you are healthy and don't have any skin diseases or infections in the area treated, there are few medical reasons why you should not undergo this treatment.
Contraindications include:
• If you are pregnant or lactating
• If you use anticoagulant drugs
• If you suffer from keloid scarring
• If you have active skin infections
• If you have bleeding disorders
• If you have skin malignancy
• If you use a pacemaker
TREATMENT REGIME
The time taken for a treatment session will depend on the size of the area and indication being treated, for example, facial skin rejuvenation will take approximately 30 – 45 minutes. Body areas generally take longer.
Normally, you will require between 1 – 5 sessions, 3 is most commonly recommended, but this all depends on your skin type and the area in which the procedure is to be applied. Treatment sessions are usually space 4 to 6 weeks apart to allow healing in between.
COST OF TREATMENT
The cost of treatment depends on the area(s) being treated and the indication and can start from approximately £400 – £700 per session. Expect to pay £1,500+ for a facial rejuvenation programme.
CLINICAL RESULTS
A clinical study conducted by Dr. Takahashi- used INTRAcel for acne scars. 100 patients enrolled with mild-to-severe acne scarring, then single fractional RF micro-needling sessions were conducted, with management for a week and a follow-up at one month after the treatment. Preliminary outcome revealed high patient fulfillment and substantial improvement of the acne scarring, chronic redness, and enlarged pores. On average, acne scarring improvement exceeded 90%. Transitory minor complications such as erythema (redness) and oedema (swelling) resolved quite rapidly.
BEFORE AND AFTER PHOTOGRAPHS
Photographs Courtesy of SmartMed