EmbraceRF RECERTIFICATION & CONSUMABLES
Does InMode Charge a Recertification Fee for the Purchase of Consumables and Service? Yes, Cost = $30,000.
Manufacturer Warranty = $9,500 per year
A requirement for InMode Recertification is Physician and In-service Training; Cost = $7,500 for Both
Morpheus8 Consumable Tips:
Prime 12 pin = $75 per Tip, Single Use
Resurfacing 24 pin = $75 per Tip, Single Use
Morpheus8 24 pin = $75 per Tip, Single Use
Accutite Consumables:
Accutite Handpiece – Box of (2) Handpieces = $500, or Box of (1) Handpiece = $300, Single Use Handpieces
Facetite Consumables:
Facetite Handpiece = Box of (2) Handpieces = $500, or Box of (1) Handpiece = $300, Single Use Handpieces
Updated: 02/2022
EmbraceRF PRODUCT SPECIFICATIONS
Wavelength: Radio Frequency
MORPHEUS8
Type: Deep and Subdermal
Pin Length: 4000
Ablation Depth: 5mm +
Max Energy: 62 mJ/pin at 75 W
Frequency: 1 MHz
Repetition Rate: Up to 2 pps
MANUFACTURER NOTES
WHAT IS EMBRACE RF?
EmbraceRF technology provides subdermal adipose coagulation resulting in tissue remodeling. It is an advanced technique combining skin laxity treatment and fat remodeling for your patients who are not yet ready for, or not interested in, more excisional procedure, but are looking for comparable and impeccable results.
KEY BENEFITS:
EmbraceRF: Offers a solution where no other currently exists:
EmbraceRF is a combination of powerful technologies to effectively treat skin and subdermal adipose tissue.
EmbraceRF provides physicians with the highest versatility of treatment offerings.
EmbraceRF is the perfect treatment for patients who are looking for exceptional results without the scars and downtime associated with invasive surgical procedures.
TECHNOLOGIES ON THE WORKSTATION

ACCUTITE
AccuTite makes focal RF treatment without excisional surgery. AccuTite is based on RFAL technology delivering precision heating to remodel adipose tissue.
WHAT CAN IT TREAT?
Face and Neck (Minimally Invasive)

AccuTite
ACCURACY IS EVERYTHING PRECISION TARGETING AND PROVEN PERFORMANCE
The new AccuTite makes focal RF contraction without excisional surgery the new standard in cosmetic medicine. Small, but mighty, the AccuTite delivers precision heating in addition to the science and safety recognized with the Radio-Frequency Assisted Lipolysis (RFAL) family of technologies.
AccuTite is for the face and body.
AccuTite FACE Areas of Applications
Brow
Periorbital
Nasolabial Fold
Lower Face
Neck
Accutite BODY Areas of Applications
Axilla Bra Fat
Upper Arms
Hands
Abdomen Etching
Inner Thigh
Knees
Womens Health & Wellness
SIMPLE, SAFE & FOCUSED
The AccuTite is the smallest minimally-invasive radio-frequency contraction device with the most number of clinical studies and peer-reviewed publications backing its safety and efficacy. Patients who need precision fat reduction or skin contraction now have a new solution that can be done under local anesthesia, in an office setting, in less than 20 minutes, without excisional surgery.

FACETITE
In just one treatment, FaceTite can provide significant improvements to the face contour. Using RFAL technology, FaceTite is the next best thing to a traditional facelift, without the associated large scars and downtime.
WHAT CAN IT TREAT?
Face and Neck (Minimally Invasive)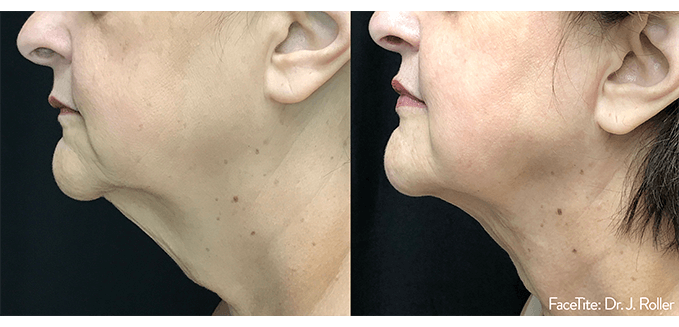 FaceTite
FaceTite is a minimally-invasive contouring solution for the face and small areas of the body. Physicians can achieve results similar to a facelift or brachioplasty without excisional surgery. This is a safe, effective and exciting treatment that offers patients significant aesthetic changes.
FaceTite is powered by RFAL (Radio-Frequency Assisted Lipolysis) and provides superior internal and external lipolysis, resulting in three-dimensional remodeling of the fibrous septa. Built-in safeguards including real time measurements of skin temperature, impedance monitoring, power cut-off and audible feedback help ensure patient safety
FaceTite Benefits
Uniform thermal field provides an even distribution of heat.
Dual temperature technologies provide greater safety and control compared to other technologies.
100% energy concentration in the treatment zone.
Physician sets and controls the temperatures. Heat gradient enables optimal treatment results.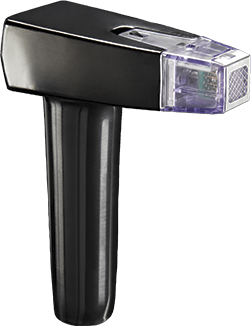 Morphheus8 is a minimally invasive Subdermal Adipose Remodeling Device (SARD), designed to remodel collagen and coagulate adipose tissue. This interchangeable portfolio of microneedling tips, with different pin configurations (Prime 12 pin, Resurfacing 24 pin, Morpheus8 24 pin), provides physicians with a modular solution to deliver customizable fractional treatments.
COLLAGEN – This fractional tissue treatment stimulates the production of collagen in the underlying layers of the dermis.
DARKER SKIN TONES – Morpheus8 effectively remodels skin and tissue with minimal risk of post-inflammatory hyperpigmentation. Patients should expect little to no thermal damage to skin types I – VI.
WHAT CAN IT TREAT?
Small hard-to-reach and facial soft tissue areas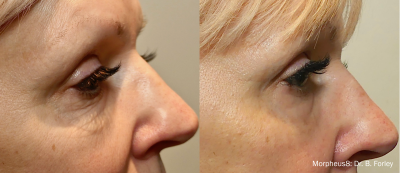 Morpheus8 – THE FIRST FULL-BODY FRACTIONATED TECHNOLOGY
The Morpheus8 is a new subdermal adipose remodeling device (SARD) that fractionally remodels and contours the face and body. Penetrating deep into the skin and fat, this morphs the aging face of body into a more desired smooth and sleek appearance, for all skin tones.
Deep and safe fractional treatment penetrating 4000 microns with an additional thermal profile of 1000+ microns
Extremely uniform effect
Little to no thermal damage to dermis
Safe on skin type VI with little risk of post inflammatory hyperpigmentation (PIH) which is common with other resurfacing methods.